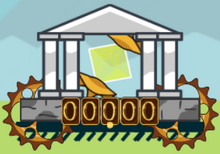 Bank is the first building of the Clockwork City. At first there is only a basement on the screen, but as the player rotates the Mechanical Sun, the Bank unfolds.
The completely unfolded Bank has 2 Cogwheels, to which other Basement houses can be attached.
The Crystal in the Bank receiver the energy from the Sun's rotations, and the Bank transits the energy further.
Flying coins must reach the Bank to make the next purchases available