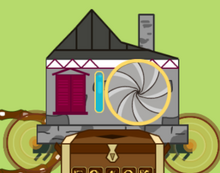 Basement House is the first level of all the buildings of the Clockwork City. Once unfolded, they produce coins, which drop to the Money Chests nearby.
Such buildings as House floors, Energy Towers, Windmills can be placed atop of the Basement house.
The Basement House transfers energy sideways and upwards, during the transmission 10% of energy is lost.
Can be upgraded to increase the amount of money produced.