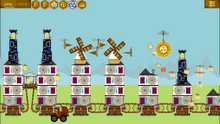 Clockwork City is the second world the player opens in Steampunk Idle Spinner.
The world was inspired by the GoT opening, and contains a mechanical sun and unfolding buildings, which generate income. The unlock cost is 1M Narrativium.
In this word the main source of energy is the mechanical sun. Te crystals receive the energy and transfer it along the chain of connected building. Each horizontal or vertical connection reduces the energy transfer by 10%.
Additional source of energy are the windmills and bellows. At some point the windmills become dominant power producers, but then more sun upgrades which increase it efficiency, appear.
The money from the buildings doesn't go straight to the bank, it drops to the money chest, and the player tap the chests to extract the money. It's possible to purchase a machine to do it automatically.
List of the machines and entities in the Clockwork City world: