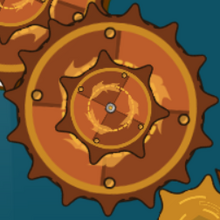 The Cogwheel is the main connecting element in the Workshop world, as well as in Assembly line and Clockwork City worlds. Most common cogwheel has 2 rims: the inner rim and the outer rim. The ratio between their radii is 1:2. Later the cog with the 1:3 ratio is unlocked.
If the outer rim of the first cog is connected to the inner rim of another cog, then the rotation speed of the second cog is increased 2 times.
The cogs can be rotated by finger swipe or (in the web and the PC version) by simply moving the mouse pointer over the cog.
It's possible to press-and-hold the cog to open the additional options. The button to move the cog will appear, as well as the button to switch the possible connections.
You can attach an Engine to the end of a chain of cogwheels to spin them all without your help or if the app is closed.
Level
Cost
Mass
1 / 10
1K / 100B
1:2 / 1:3
1:2 / 1:3
2 / 20
5K / 50aa 
1:2 / 1:3
1:2 / 1:3
3 / 30
25K / 2.5ae
1:2 / 1:3
1:2 / 1:3
4 / 40
100K / 100ah
1:2 / 1:3
1:2 / 1:3
5 / 50
500K / 25al
1:2 / 1:3
1:2 / 1:3
6 / 60
2.5M / 500aq
1:2 / 1:3
1:2 / 1:3
7 / 70
10M / 100au
1:2 / 1:3
1:2 / 1:3
8 / 80
50M / 25ax
1:2 / 1:3
1:2 / 1:3
9 / 90
250M / 100bc
1:2 / 1:3
1:2 / 1:3
10 / 1a1
1B / 50bh
1:2 / 1:3
1:3 / 1:4