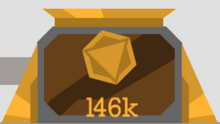 Money storage is the place where the coins are collected in the Assembly line world. The coins can drop directly to the storage or they can roll in from the side entrance.
Upgraded storage slightly increases the coin value before the consumption.
The position of the storage is not fixed (unlike the Underwater world or Workshop world, and it can be moved to another Room or Cellar for the better space usage.