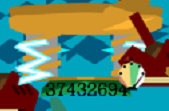 Can be placed right above the Treasure chest in the Underwater world. Works this way: you tap it and charge. Then, when the coin falls through the accumulator, it discharges and increases the coin's value.
Several Tap accumulators can be stacked.
To charge the accumulator continuously, connect a hammer or two to it.